Finally finished these and decided to share them freely (consider it a sort of apology for all the recent stuff!)
The gauges are based on original Veglia clocks used in the 250 SWB - they're copied as close as possible within the constraints of a Z3 dash layout.
You'll need two files: the front template and the rear transparency template.
The front template gives the look - the rear determines what colour the illumination shows through at night. You have a choice of plain white illumination or red but frankly if you're handy with an image editing program you can change it to your choice.
IMPORTANT: Do not resize the files - they are A4 size to print on A4. Do not shrink to fit or adjust size - they are exact to the original Z3 original faceplate size.
Printing: The files are 300dpi ready for printing. I was going to get the front template printed at Snappy snaps or similar shop on matte paper. Reason for getting them printed rather than printing yourself was purely fade resistance in the sun - your call!
The rear template should be printed on transparency film.
There are hairline sights to allow you to ensure both templates are properly aligned before using light coating of spray adhesive to stick them together.
Please read this guide (for Mazda gauges but the principal is exactly the same) to see how to assemble:
https://mazda626.net/topic/39309-mak...m-gauge-faces/
CUTTING HOLES: Your problem!
FITTING: you can either remove needles or cut centre hole big enough to go over needle centres (Lockwood dial kits are supplied like this).
What they look like: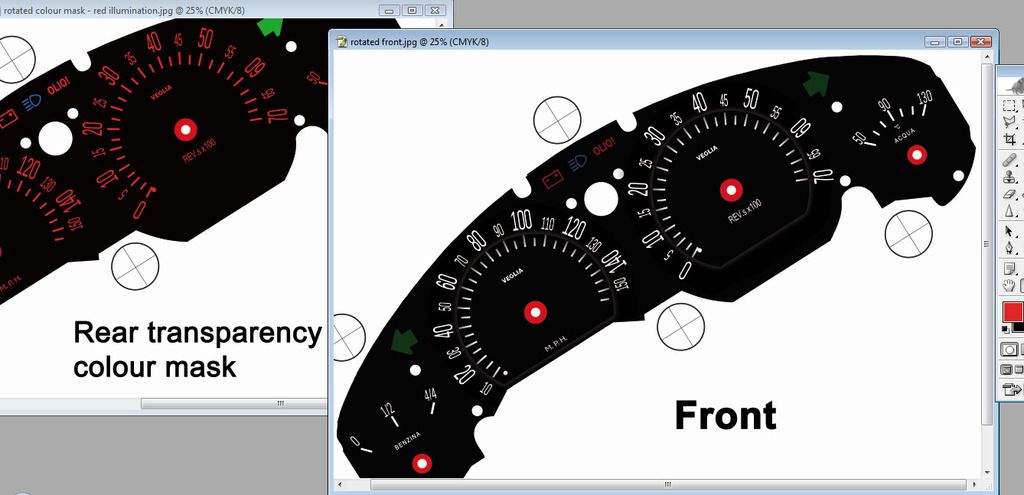 DOWNLOAD HERE:
Front template:
http://www.mediafire.com/download/uv...ated_front.jpg
Rear Colour mask RED:
http://www.mediafire.com/download/c5...lumination.jpg
Rear Colour Mask WHITE:
http://www.mediafire.com/download/k9...lumination.jpg
If you decide to fit please post any how to help as a follow up and pics of gauges....